COVID-19
NYC Dance Field-Wide Calls
Updated: August 9, 2022 3:00 p.m.
Stay connected with NYC's Dance Community
Since May 28, 2020 Dance/NYC has been hosting calls with the dance field to address pressing questions, needs, and plans for the future of dance in the metropolitan NYC area. The calls have focused on disseminating information related to COVID-19 and on facilitating resource-sharing amongst the dance community.
Starting in January 2022, calls occur monthly on the third Thursday of the month from 4:00 pm. – 5:00 p.m. Any member of the community is welcome to attend.
Accessbility for the calls: CART captioning services will be provided for the Field-Wide Call. Additional accessibility services, including ASL interpretation, can be provided upon confirmed requests in advance of each meeting (24hrs). Email [email protected] for accessibility service requests.
Registration is required and free. Note that you only need to register once to be added to the list for all future calls.
Field-Wide Call | August 18th 4:00-5:00 p.m.
TOPIC: Open Culture Program  
Speakers:
Ariel Herrera, Research & Advocacy Manager, Dance/NYC
May Vutrapongvatana, Director of Budget and Policy, Office of Council Member Chi Ossé
Isabelle Chandler, Legislative Director, Office of Council Member Carlina Rivera
CART captioning will be provided. Additional accessibility services, including ASL interpretation, are available upon request with registration up to 24 hours in advance of the meeting, or email [email protected].
---
Below you can find the resources that we've gathered, as well as the documents Dance/NYC has been updating related to the calls.
Resources
Past Meeting Calendar and Topics
7.21.22      Dance Industry Census
6.16.22      Testimony Workshop: Cultural Institutions and Disability Access | Revisit the recording 
5.19.22      Support for Dance Artists in Ukraine
4.21.22      Advocacy Updates and Resources with the Dance/NYC team
2.17.22       Creatives Rebuild New York + Arts Insurance Program
1.20.22      Reopening Dance in NYC | Revisit the recording
12.16.21      Dance Data Project®
12.02.21     Rising Tides Research Institute
11.18.21       All Senses Go
11.04.21      The Power of the Performing Arts
10.14.21      Vaccines for Dancers Town Hall | Revisit the recording
9.30.21       Latinx Dance Educators Alliance
9.16.21        Artist Care Act
9.09.21       Key to NYC | Revisit the recording
8.19.21        Dancers Amplified
8.05.21       Women of Color in the Arts
7.22.21        Putting Creative Workers to Work
7.8.21          Creating New Futures
6.24.21       Making Homes for the Arts in Sacred Places 
6.10.21        Be An #ArtsHero
5.27.21       Cultural Plan for Recovery and Reopening 
4.29.21       Nonprofit Advocacy
4.22.21       Works & Process at the Guggenheim
4.15.21        Dance/USA Taskforce on Dancer Health
4.8.21         De-escalation Training for Dance Studios | Revisit the recording
3.11.21         Open Floor 
3.4.21         Open Culture Works
2.18.21        Artist Prepardedness and Emergency Response
2.11.21         Indoor/Outdoor Programming 
2.4.21         International Association of Dance Medicine and Science 
1.28.21        Dance/NYC Symposium
1.21.21         Community discussion on Open Culture
1.14.21         Artist Visas during the COVID-19 Pandemic
1.7.21           Virtual Fundraising 
12.17.20       Commissioner Gonzalo Casals/Reopening Dance in NYC website
12.10.20       Open Culture 
12.3.20        Dance Rising + On Display: Public Dance Displays 
11.19.20        Virtual Festivals: Wade into Activisim 
11.12.20        Q&A with Director of Dance Medicine on COVID protocols 
11.5.20         Post Election Debrief 
10.29.20      International Association of Blacks in Dance 
10.22.20      Group Updates 
10.15.20       Reopening Discussion on In-Person Performances 
10.8.20        Get out the Vote
10.1.20          Reopening Studios  
9.24.20        Open Floor
9.17.20          Use of Public Spaces
9.10.20         Dance Studios Reopening
8.13.20         Elisa Monte Bubble Residency
8.6.20          Rental Space
7.30.20        Education + Digital Instruction
7.23.20        Advocacy News + Group Updates
7.16.20         Bubble Residencies + HVAC  
7.9.20          Advocacy Updates + Mayor's Office
7.2.20          Dance/NYC Reopening Documents
6.25.20       Phase 2 Reopening + Legal Questions
6.18.20        Outdoor Performance + Advocacy Updates
6.11.20         Continuation of BLM + Reopening
6.04.20       BLM + Racial Justice
5.28.20       Introduction
Additional Resources
Upcoming Events
Media from Past Events
Video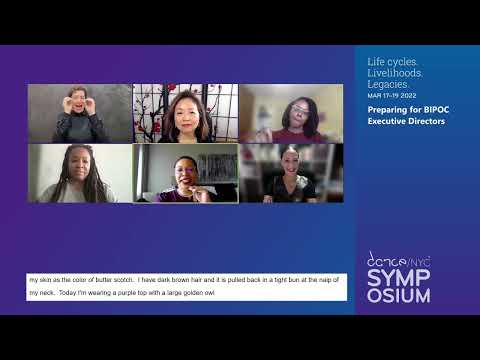 May 13, 2022
Dance/NYC 2022 Symposium: Preparing for BIPOC Executive Directors: Evolution through Revolution
More Video
Photos
August 1, 2022
Dance. Workforce. Resilience. Launch Event
January 23, 2020
The Gathering 2020
January 6, 2020
The Words We Use to Talk About Thriving
More Photos