COVID-19
NYC Dance Field-Wide Calls
Updated: May 9, 2022 5:30 p.m.
Stay connected with NYC's Dance Community
Since May 28, 2020 Dance/NYC has been hosting calls with the dance field to address pressing questions, needs, and plans for the future of dance in the metropolitan NYC area. The calls have focused on disseminating information related to COVID-19 and on facilitating resource-sharing amongst the dance community.
Starting in January 2022, calls occur monthly on the third Thursday of the month from 4:00 pm. – 5:00 p.m. Any member of the community is welcome to attend.
Accessbility for the calls: CART captioning services will be provided for Field-Wide Calls. Accessibility services including ASL interpretation are provided upon confirmed requests in advance of each meeting (24hrs). Email [email protected] for accessibility service requests.
Registration is required and free. Note that you only need to register once to be added to the list for all future calls.
Field-Wide Call | May 19th 4:00-5:00 p.m.
Join the Dance/NYC Field-Wide Call on Thursday, May 19, 2022 from 4:00–5:00 p.m. to hear from guest speakers Lourdes Lopez, Artistic Director of Miami City Ballet, who will talk about their work providing support for Ukrainian dance artists, and Anton Ovchinnikov, Artistic Director of Zelyonka Contemporary Dance Festival in Kyiv, who will share his experience of what is currently happening in Ukraine and how you may be able to provide support to Ukrainian dance artists.
CART captioning will be provided, and accessibility services are available upon request with registration up to 24 hours in advance of the meeting, or email [email protected]
---
Below you can find the resources that we've gathered, as well as the documents Dance/NYC has been updating related to the calls.
Resources
Dance/NYC Field-Wide Call Documents
Past Meeting Calendar and Topics
Additional Resources
Upcoming Events
Media from Past Events
Video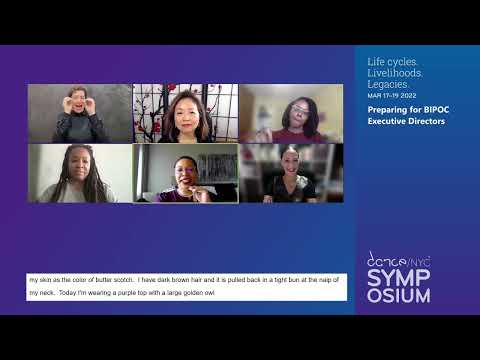 May 13, 2022
Dance/NYC 2022 Symposium: Preparing for BIPOC Executive Directors: Evolution through Revolution
More Video
Photos
January 23, 2020
The Gathering 2020
January 6, 2020
The Words We Use to Talk About Thriving
November 8, 2019
Defining "Small-Budget" Dance Makers in a Changing Dance Ecology
More Photos